Now more than ever, we believe kindness is essential in uplifting compassion, connectedness, and courage to advocate for our common humanity. The goal of Mason Chooses Kindness is to ensure that there are ongoing activities/resources for our Mason students, faculty/staff, alumni, and community to explore, engage in, and most of all, have opportunities to spread kindness.
Mission: Create and sustain a kindness revolution at Mason.
Vision: As Mason Patriots, we change the world one small act of kindness at a time.
Mason's Definition of Kindness: Intentionally engage in positive action that is friendly, caring, and compassionate towards self and others.
Mason – A Well-Being University: At Mason, we believe that we thrive together with shared success as one of our core values. Our goal is to evolve as a model well-being university, providing a place for all members of our Mason community where everyone thrives while contributing to others' well-being.
A Reflection on Conflict in the Middle East and Beyond
Amid the human suffering today in the Middle East and beyond, our world is yearning for a greater connection to universal values such as love, human dignity, kindness, and peace. The impact of the conflict between Israel and Palestine is far-reaching, inspiring humanitarian aid from around the world. We're also witnessing courageous and civil acts of advocacy from all perspectives. These extraordinary acts of kindness are preserving the best of our humanity.
Mason Chooses Kindness is dedicated to this same endeavor. Our vision is simple for all of our Patriots – we change the world with one small act of kindness at a time. One of those acts of kindness is leaning into one another for more compassionate listening and open dialogue. For some of us, this might require moving out of our comfort zones and into our learning zones. Part of that learning includes taking good care of ourselves and each other.
This is a critical time for all of us to prioritize our mental health and well-being. Below are a few examples to get you started.  For a more comprehensive list, please visit Patriots Thriving Together.
Use the creative ideas in the calendar below to put kindness into action! Click here for our Mason Chooses Kindness toolkit, which contains a map with live links to explore.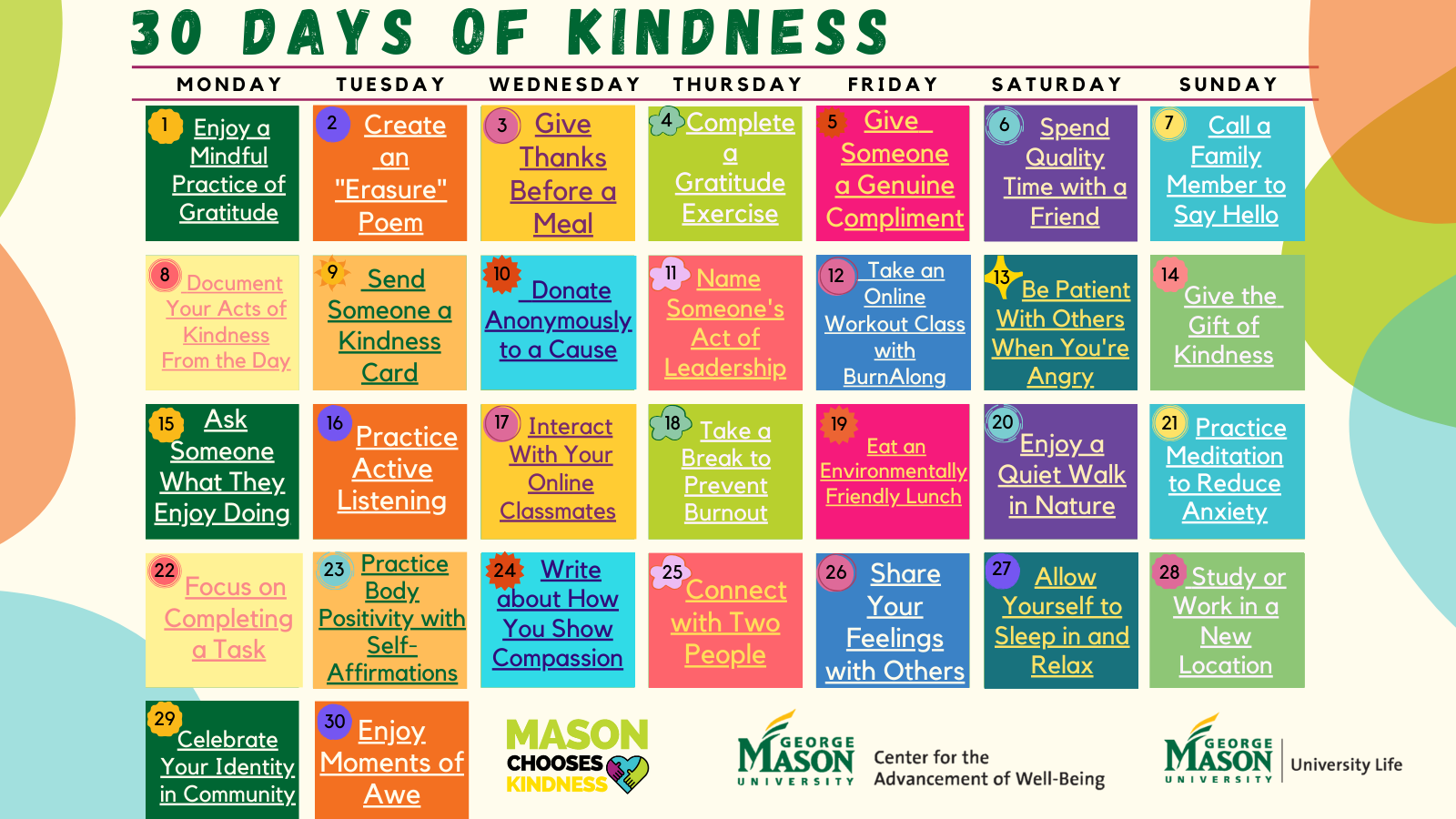 "We believe that young people are uniquely positioned to create this kinder, braver world because they are filled with hope, compassion, and a commitment to community, and they are defined by diversity, inclusivity, and distinct perseverance that makes them powerful beyond even their own wildest imaginations." – Lady Gaga
Mason Nation, share your stories of thriving together through kindness! We want to know about ways you've put kindness into action or experienced kindness from someone else. Use the hashtag #MasonChoosesKindness on social media to inspire our Mason community with your posts!
Questions about Mason Chooses Kindness? 
Contact: mck@gmu.edu